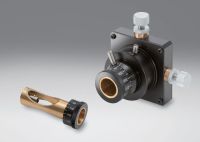 Fiber holders equipped with an adjustment mechanism for three axes including vertical, horizontal and focus direction. These holders can handle fibers with various connectors by replacing adapters.
You must be logged in to ask questions
◦The large slit on the adapter cylinder enables connection of various fiber connectors inside the adapter cylinder.
◦It is capable of rotating the polarizing axis of a polarization-preserving fiber for 360 degrees. (See Attention)
◦The focus adjustment lever of the 3-axis holder can move the tip of a fiber in the optical axis direction.
◦Each adjustment mechanism of the 3-axis holder has a clamp mechanism to fix adjustment positions.
◦Adapters compatible with the FC, SMA, and ST connectors of various fibers are available.