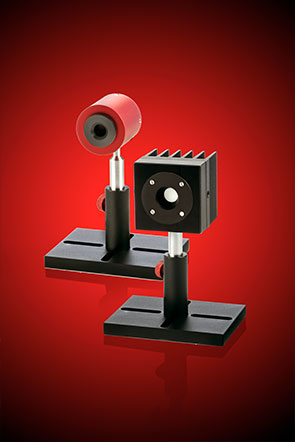 Sources

Description

Although OptoSigma is mainly known as a great source for optics and opto-mechanics, we also offer coherent laser sources and incoherent LED light sources. OptoSigma laser sources can be used for a wide variety of applications including inteferometry, spectrometry, laser measurement systems, structured illumination for machine vision, laser scanning and microscopy. The applications for laser light sources grow every day limited only by the imagination of the world's optical engineers. Incoherent LED light sources provide a cool, long life light source for many imaging applications such as machine vision and microscopy. Our LED sources include fiber bundle coupled lights for use with high intensity inspection and microscopy systems, as well as lower powered, low cost integrated LEB spot illuminators for use with OptoSigm'a modular microscopy systems.

Optical Devices

Description

Optosigma offers a wide variety of Opto-electronic devices, sensing and image evaluation products. Opto-electronic products include electro-mechanical shutters for controlling the direction of propagation of laser beams, Beam profilers for measuring the size, shape and energy distribution of the light in a laser beam, and Amplifiers and temperature controllers for powering Laser diodes to create laser light. Sensing products include passive and electronic sensors for detecting and measuring laser light in the visible wavelengths as well as invisible ultraviolet and infrared wavelength regions.

Optical Power and Energy Meters

Description

Working with lasers often requires being able to measure the power or intensity of the laser beam being used. Optosigma offers a full lineup of laser power meters to measure Continuous wave (CW) lasers as well as Pulsed lasers. Powered by LaserPoint technology, these meters are available as integrated meters that connect directly to a computer's USB port as well as stand-alone power detector heads that connect to a separate meter that can display and record power and energy measurements. New to the market are OptoSigma's high-speed power meters. Based on a unique high-speed thermal sensor, these power and energy meters can detect pulses of much shorter duration and faster rise times than any other thermal detectors on the market.