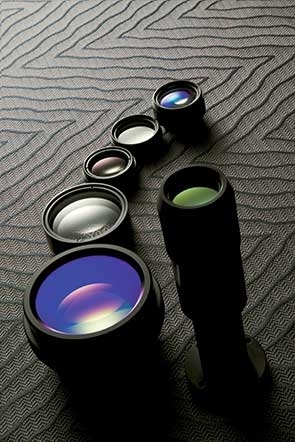 Laser Focusing Lenses

Description

Laser focusing lenses carefully engineered to handle the higher laser powers with special glass types and antireflection coatings designed specifically for the higher power densities. If you require a custom version, please let us know and we will be happy to supply one for your laser and application.


Beam Expanders

Description

Laser Beam Expanders, also known as collimators, are optical devices used to collect a collimated beam of light to expand or reduce its size, depending on the orientation used. They are used for reducing power density, minimizing beam diameter, and reducing laser spot size. Beam expanders are useful in a variety of applications including interferometry, laser scanning, remote sensing, laser machining, laser ranging, high power lasers and more. We offer both variable (zoom) and fixed laser beam expanders. In this section, find a variety of off the shelf standard beam expanders or ask us about custom OEM beam expanders.

F-Theta Lens

Description

F-Theta lenses are specially designed for laser material processing applications. High Laser Damage Threshold AR coatings provide excellent throughput and durability. Typical focusing lenses offer an optimized focus for a single spot, however F-Theta lenses provide an optimized focus at many locations in the scan field on the workpiece. n If you do not find a standard F-Theta lens for your application, ask us about supplying a custom version. F-Theta Lenses are used in applications such as laser marking, bar code readers, laser micromachining, laser scanning, and many other laser applications in the microelectronics, semiconductor, automotive and medical industries.