Aspheric Focusing / Collimating Lens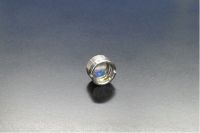 Aspheric lenses for extracting a collimated beam from the optical fiber or focusing the collimated beam into an optical fiber.

Customize product
You must be logged in to ask questions
◦ Precision modeled aspheric lenses enabled to obtain the collimated beam close to the planar.
◦ You can directly mount to the optical fiber collimator housing because lenses have frame.
◦ According to each laser wavelength, you can choose from 3 kinds of anti-reflection coatings.