Motorized Stages
Guide
Vacuum Compatible Motorized Stage Guide VSGSP Guide
For use in vacuum environments, the vacuum compatible stage series offers replacement with a stainless steel or machined aluminum body as well as replacement with vacuum grease, and uses a vacuum rated motor and a contact type or mechanical driven type switch, and Teflon coated cables for signal wires.
The series is suited for positioning in environments where the degree of vacuum is between 10-4 and 10-5Pa. For the vacuum characteristics, see the measurement data of outgas volume, degree of vacuum, and mass component ratio.
In addition to the standard lineup, motor replacement, sensor replacement, special specifications such as vacuum compatible large mirror holders, and replacement of grease to vacuum grease for the guides or feed screws of standard specification stages to deal with low vacuum specifications are available. Contact our International Sales Division for more information.

Attention
To use a vacuum compatible stage in a vacuum chamber, the connection cables between the vacuum side and the atmosphere side need to be relayed using a vacuum current feedthrough or the like. Prepare the feedthrough according to the vacuum chamber specifications.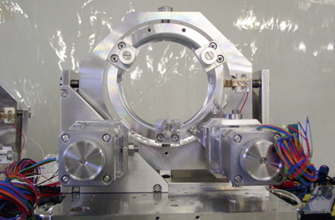 [Example of Special Order]
Vacuum Compatible Large Mirror Holder
Guide
Because heat dissipation generally deteriorates in vacuum, specification temperature conditions are stricter than those for atmosphere.
Check the usage conditions such as stage operation to make sure that the motor case temperature does not exceed 80℃.
Emitted amount of gas
Part Number
Emitted Amount of Gas Q
(after 40 minutes of emission)
(Torr・ℓ/s/unit)
(Pa・ℓ/s/unit)
VSGSP26-200
4.77×10-4
6.36×10-2
VSGSP-60
6.75×10-5
9.00×10-3
VSGSP-120YAW
4.78×10-4
6.37×10-2
Evaluation and Device Specifications
Exhaust system
Turbo-Molecular Pump STP-301
Seiyu Instruments Inc.
(Now Edwards Japan Limited)
Pumping speed: 300ℓ/sec
Mass spectroscope :
Quad Mass Spectrometer QME200
Pfeiffer Vacuum
Mass range : 1 - 200amu
Emitted amount of gas is found by the following equation :

From the measurement results of gas volume discharged from a vacuum compatible motorized stage
The main components of outgas are water and nitrogen.
This is because the gas was caused by residual air on the stage surface, and grease used for drive components is considered to have little impact on the amount of gas.
Vacuum of Vacuum Chamber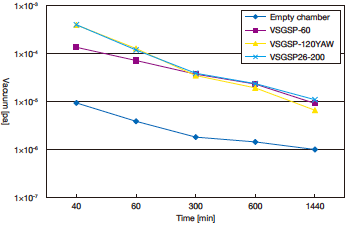 Mass Component Ratio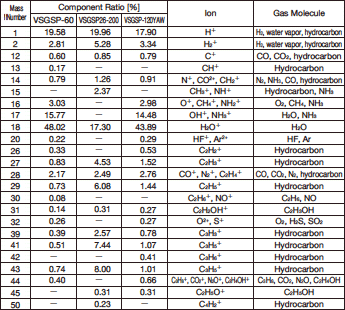 Data
Interpretation of Mass Peak
The following list shows major gases that appear for each mass number when mass peaks (mass spectra) of residual gas are measured, and their interpretations.
List of Residual Gas Spectra