Manual positioners
Guide
Linear Stages Guide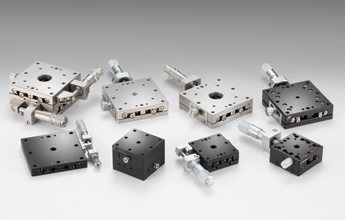 Stages used for positioning in X, Y and Z directions (in 3-dimensional plane).
Suitable for various purposes including optical experiments for research and development and assembly in systems.
Guide Structure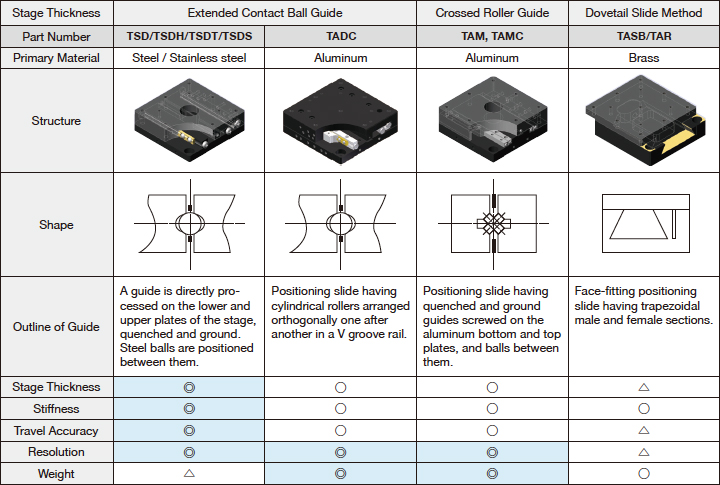 Crossed Roller Guide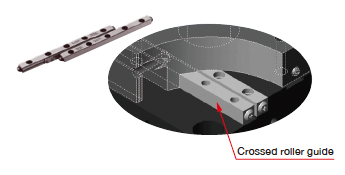 Line contact of rollers in a V groove rail offers high stiffness.
In addition, low friction and almost no differential slip are suitable for minute feeding.
Features
Crossed roller guide enabled high precision and high stiffness.
Aluminum body offers light-weight.
Dovetail Slide Method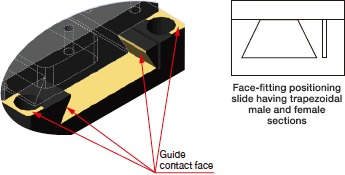 The dovetail groove method with face-fitting guide mechanism is used. Its high friction coefficient is not suitable for fine positioning, but very effective in simple positioning.
Features
The simple guide structure offers low price.
Highly stable due to face-fitting guide. Compact design is ideal for assembly in systems or fixing in confined spaces.
Ball Guide Method (TSD/TSDH/TSDT/TSDS Series)
These products are developed based on Sigma Koki's original processing technology.
Features
High Precision
High Load Capacity
High stiffness
High Durability
Low Profile
High Load Capacity and High Stiffness
The four-array contact structure achieves high load capacity and high stiffness (13 times stiffer than the V groove)
As shown in Fig-1, ball guides are machined across the arcs so that they have R groove structure and good contact with a ball allowing stable load capacity against the load in the directions where contact with the ball occurs frequently.
High Durability
Long life and free of maintenance
Fig-2 shows the pressure distribution of the R groove and the flat surface. As shown in the figure, pressure exerted on the R groove is dispersed and does not reach inside. Thus, metal fatigue and wear are reduced.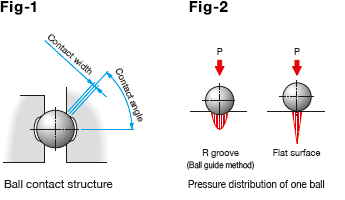 High Precision
The integral (simultaneous) machining achieves high precision
(straightness: 0.7 µm or lower)
As shown in Fig-3, the top and bottom plates are integrally and simultaneously machined using an originally devised machining jig to minimize respective machining errors. That is, to maintain high precision, these plates are machined in virtually the same state as when a ball is inside.

Low Profile
Reduction in the number of parts enables low profiling
Fig-4 shows a comparison of thickness of a crossed roller stage and a ball guide stage.
The integration of the guides into the top and bottom plates allows low profiling of the ball guide stage virtually the same state as when a ball is inside.

* The TSDT series further reduces the stage thickness to 10mm.