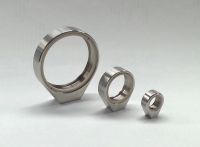 These are low outgassing lens holders which are ideal for using in the high vacuum conditions.
You must be logged in to ask questions
◦ It also can be used in a UV optical system or in a clean room.
◦ To minimize the outgassing, venting hole and grooving are provided onto screw holes and inset sections.
◦ Specially designed polyether ether ketone resin (PEEK resin) retaining ring is used for this holder.