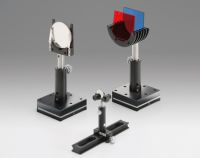 Holders for transmissive optics that do not require optical alignment such as ND filters and color filters. Designed to accommodate different thicknesses and make it easy to change filters.

Customize product
Filters
Enabled filters :
Remove all filters
You must be logged in to ask questions
◦Available in a variety of sizes and clamping methods.
◦Filter holders can be used with both round filters and rectangular filters. (Note, the FH-10 can only be used with round filters.)
◦FH-25 and FH-50 are ideally suited for fine intensity adjustment and transmitted wavelength adjustment because these can hold several filters simultaneously.