Adjustable Laser Holders (with a stand)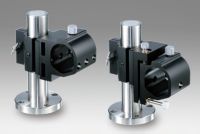 Cylindrical Laser mounts for use with vibration isolated Rod Mount system. The dampened structure makes the holders ideal for use in holograms or interferometry.

Customize product
Filters
Enabled filters :
Remove all filters
You must be logged in to ask questions
◦Cylindrical lasers of φ25.4 to φ44.5mm diameter fit in the V-grooved section and are held in place by a single clamping screw.
◦Holders can be mounted at any position by sliding along the damped rod.
◦Can be directly mounted on a vibration isolator or optical breadboard with 50×50mm matrix M6 screw holes or 1/4-20 UNC holes on 2" spacing.
◦LAHU-A mounts can adjust beam tilt and rotation.