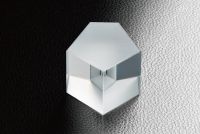 Penta prisms deviate an input beam by 270 degrees (-90 degrees) independently of the angle of incidence on the first surface. They are therefore useful as precise right angle mirrors which are insensitive to alignment. These penta prisms find many metrological applications.
You must be logged in to ask questions
◦These penta prisms are Anti-Reflection coated on the entrance and exit faces as well as being coated with an aluminum coating and black paint on the internal reflection faces.