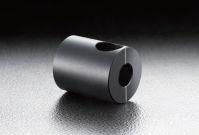 The Glan Laser polarizer are designed to provide an enhanced laser damage threshold for high power lasers and high energy laser pulses. The transmission loss is minimal, and a high extinction ratio below 5×10-5 is obtained. The Calcite type that can be used in the visible to the infrared region, and α-BBO crystal type usable in the ultraviolet region are available.
You must be logged in to ask questions
◦The two prisms are mounted with a small gap (air-gap) to eliminate the adhesive and reduce laser damage.
◦Gran Laser prism is housed in a metal frame. The polarization component which does not pass through the prism exit out of the frame through port (hole) of the metal frame.
◦Since there are two ports, the prism can also be used by replacing the input and output direction.
◦A single-layer anti-reflection coating has been applied on the surface of the Glan Laser prism to provide higher transmittance.