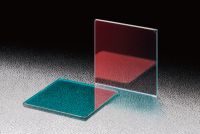 The principle of the cold filter is similar to the glass that is used in a halogen lamp to protect the heat. It enables the visible range to transmit and cut-off the IR range (heat).
You must be logged in to ask questions
◦The feature of the dielectric optical coating filter is to have a steep decline of transmittance from the visible range to IR range. In addition to this; the heat absorption filter is efficient for transmitting at the visible range and cutting off the IR range.
◦It is frequently used as a IR cut filter on a CCD sensor.
◦It is also used as a filter to cut-off the heat from the illumination in a biological microscope to avoid heating up the specimen.