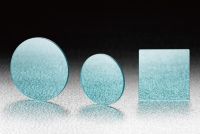 The filter that can simulate the sensing of a human eye which is similar the silicon pixel detector sensor with a wavelength located at a peak at the NIR range. It is also widely as a filter attached to a CCD sensor.
You must be logged in to ask questions
◦Use the filter to correct the unnatural color taken with an IR camera.
◦The CCF5000 can be used in natural environment or outside, the surface of the filter is tough and hard to burn.
◦The CCF 500 and CCF 5000 have the same characteristics until 900nm, above 900nm the transmittance is different.
◦The color of the ECM-500 is darker than the CCF-500 and CCF-5000 and is fit for use to cut off the NIR light.