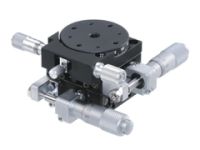 Precision stages for fine adjustment in three axes. Combination of XY axis steel stage and θ axis coarse/fine-control stage.
You must be logged in to ask questions
The θ axis (rotation) stage is placed on the top, making it possible to rotate samples in a concentric circle after centering adjustment (e.g., with a microscope scale plate) on the XY axis stage.〈br>The XY axis stage has micrometers along the sides. The low profile of the micrometer heads gives the stage compact dimensions.