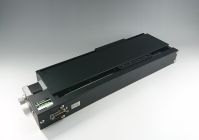 Designed for high stiffness while minimizing the height of the stage.
You must be logged in to ask questions
◦Four linear guide blocks are located at optimal positions to improve positional repeatability.
◦For lower cost, the KLSA has an aluminum body. For maximum rigidity, the KLSS has a steel body.