High Stability Ball Plunger Post Holders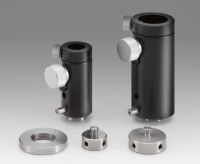 Used for coarse/fine rotation and height adjustments of posts.
The posts has three poits of contact with the post holder as opposed to the conventional twocontact points.

Customize product
You must be logged in to ask questions
◦The plunger prevents posts from slipping as well ad smooth adjustment with one hand when the clamp is loosened.
◦The adjustment screw on the bottom of the post holder can be rotated in 90 degree increments.
◦Can be mounted with different adapters.