Motorized Stages
Guide
Stepping Motors Guide
Operating Environment of Motorized Stages
Use motorized positioning stages within the following operational environment temperature range.
Contact our International Sales Division separately if you desire to use the stages outside the operational environment temperature range.
In addition, all measuring instruments are traceable standard instruments compliant to the national standard.
| *Operating environment | *Recommended environment |
| --- | --- |
| Temperature : 5°C ~ 40°C | Temperature : 23°C ± 5°C |
| Humidity : 30%~80% (without condensation) | Humidity : 60 ± 10% (without condensation) |
Operational environment temperature changes depending on various conditions such as the type of motorized positioning stage, installation and operation conditions.
Avoid use of the stages in the following sites.
Sites subject to water or oil
Sites subject to direct sunlight or radiant heat
Sites subject to dirt and dust
Sites subject to vibration or impact
Sites close to fire
Sites subject to inflammable gas and corrosive gas
Life Cycle
Although the life cycle varies depending on intended use or application, 2,000 to 3,000 hours for linear systems and 1,000 to 1,500 hours/year (about 3 to 4 hours/day) for rotation/goniometer systems are assumed.
Note that the above assumption may not apply to repeated operations (high-speed drive or high-load drive).
Careful maintenance or supply of grease is important forusing the products for a long time without a problem.
Storage
When not using motorized stages for a long time, store motorized stages wrapped with anti-rust paper, or store in a plastic bag with a desiccant.
Storage Temperature: 0°C - 40°C
Humidit: 10% - 85% (without condensation)
Example of Installation Procedure
Linear
Rotation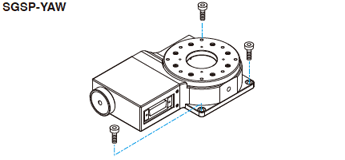 Goniometer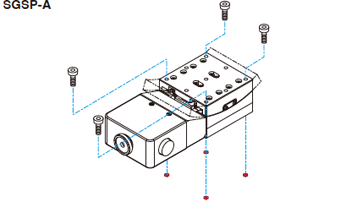 Attention
Recommended parallelism for stage mounting surface is 0.02 or lower.
A product might be warped when it exceeds 0.02, causing abnormal operation.
When mounting another product on the upper table of a motorized stage, make sure that the stage is not subjected to abnormal external force.
Foreign substances in tapped holes on the upper table or on the side of the stage will cause malfunction.
Mounting Orientation
The values in the specifications of each product are based on installation on a level surface.
Note that load capacity and other precision values will significantly change for upside down, lateral horizontal and other installation orientations, because mounting on other than the horizontal surface require securing with screws.
Category
Series Name
Positioning Slide
Upside Down
Lateral Horizontal
Lateral Vertical
Linear
OSMS
Outer Rail
◯
◯
◯
HPS
Ball Guide
◯
◯
△
TAMM, KST
Crossed Roller
◯
◯
△
Rotation
SGSP-YAW
Worm and Worm Wheel
◯
△
△
HDS-YAW
Bearing
◯
△
△
KST
Crossed Roller
◯
◯
△
Goniometer
OSMS-A/B
Ball Guide
◯
◯
△
SGSP-A/B
Crossed Roller
◯
△
△
◯ : Possible with limits on load capacity and other accuracy.
△ : Possible depending on the model, with limits on load capacity and other accuracy.
× : Not allowed
Please contact our International Sales Division regarding other unclear points related to mounting orientation.
Selection Guide
Motorized stages are categorized in several different travel axes and types by the differences in structure or positioning slide.
Since precision, stiffness and price differ depending on the type, select a product ideal for the intended purpose.