Rack and Pinion Geared Post Holders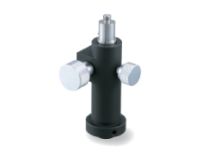 Rack and Pinion Post Holder offers fast and easy height adjustment.

Customize product
Filters
Enabled filters :
Remove all filters
You must be logged in to ask questions
◦To secure a holder, detach the post from the holder and attach the main body to the M6 thread on top of the rack and pinion geared post holder. (With the post detached, the holder has an M6P1 internal thread on the underside. Note that some holders have an internal thread of different size.)
◦The rack-and-pinion mechanism ensures speedy motion.
◦The screw-in type underside has an M16P1 thread. After screwing in the underside, loosen the two hexagon socket set screws on the side of the top M6 thread, adjust the rotation around the vertical axis of the holder main body, and clamp the holder at an arbitrary position.