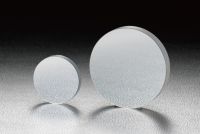 Silver (Ag) coated mirrors have high reflectance over a broad range from visible to infrared wavelengths. Since it is coated with a protective layer on the silver, it can be used long-term without oxidation.
You must be logged in to ask questions
◦For the wavelength range from the visible to infrared, higher reflectance than aluminum mirror can be obtained.
◦Incident dependence is smaller than the dielectric multilayer coating, it can use at various incident angles.
◦Since it is coated by protective layer, a scratch hardly occurs even if it is rubbed with a cloth.