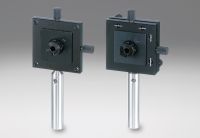 Holders used for securing and adjusting optical fibers with ferrules (fibers before connectors are attached). When used in combination with the adapter for fiber optics holders (OFH-ADP), these holders can hold φ0.3mm to φ4mm ferrules.
You must be logged in to ask questions
◦Focus adjustment knob enables collimation adjustment in combination with the lens.
◦The OFH-1 two-axis holder allows positioning of optical fibers.
◦The OFH-2 four-axis holder adds tip and tilt capability.
◦Both OFH-1 and OFH-2 are available with high precision differential adjusters for more demanding applications.
◦Custom sleeves (OFH-ADP) are available to hold ferrules from 0.3mm to 4.0mm diameters. Two setscrews in the body of the holder clamp the sleeve tight and hold the fiber and sleeve in place.