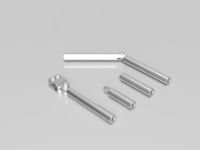 Used to extend a cage system in directions other than straight or right angles.
Can be used for optical systems where the light path is bent to an unspecified angle, such as diffraction gratings or prisms.
Attention ▶The straight type(C30-REL-6SET) and the side branched type(C30-RET-6SET) have the same rod length, so the end position of the rod is different on the inside and the outside depending on the angle.
▶Cage rod ends are used to secure the cage system at an angle only and it cannot be used on frequently operating parts. When folding the Cage rod ends, loosen the screws at the joints and tighten them firmly after installation.
You must be logged in to ask questions
◦Straight type (C30-REL-6SET) for angled extension from a straight cage system, side branching type (C30-RET-6SET) for diagonal branching from the side of the cage, or rod end (C30-REI-6) for right angle branching from the side of the cage.
◦C30-RES-6 can be inserted between two C30-REI-6s to create a right-angle connection. Alternatively, the C30-REI-6 can be mounted to a 30 mm spacing by inserting a C30-RES-6 between them.