Vacuum Optical Baseplates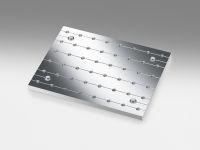 These are low outgassing optical baseplates for installing optical system and positioning equipment in the high vacuum chamber.

Customize product
Filters
Enabled filters :
Remove all filters
You must be logged in to ask questions
◦ The VOBC has M6 tapped holes on 25mm matrix over the entire surface. Various bases and the stainless stage (TSDS-654-M6) can be fixed.
◦ To minimize outgassing, venting hole and grooving are provided onto all of the screw holes.