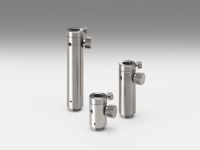 This is a post holder for adjusting optical axis height of the holders with vacuum posts.

Customize product
Filters
Enabled filters :
Remove all filters
You must be logged in to ask questions
◦ To minimize the outgassing, venting hole and grooving are provided onto screw holes and inset sections.
◦ You can move the posts by loosening the locking clamp of the post holders.
◦ You can rotate the holders centering on the post without changing the optical axis height of holders because intermediate ring for prevention of falling of post is attached.