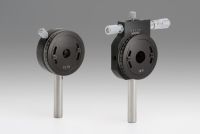 Polarizing Prism Holders
SKU : GTPC-PH - GTPC-SPH - GTPC-ADP
In stock
SKU
GTPC-PH - GTPC-SPH - GTPC-ADP
Used to adjust polarizing prisms such as Glan-Thompson prisms. Best used for precision alignment of Glan-Thompson prisms or for polarimetry devices.
You must be logged in to ask questions
◦The fine adjustment mechanism in the SPH can be used to detect an extinction ratio of 10-5 or less.
◦The scale plate on the PH and SPH series can be positioned to provide a convenient reference to the polarizing axis.
WEB Reference Catalog Code/W4027
◦The SPH can be post mounted with the micrometer at the top or at the side for convenient operation in a variety or environments.
◦The SPH includes a locking mechanism to prevent accidental adjustments.
◦Polarizing prisms are held in place with retaining rings.