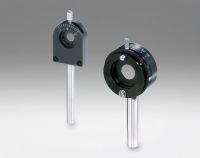 Iris diaphragm holders that can change the aperture size without changing the center of the aperture. Can be used to change the depth of field in imaging systems. And passing necessary laser beam while blocking optical feedback or stray light in laser experiments.
You must be logged in to ask questions
◦You can change the aperture diameter by loosening the adjustment lever and moving it from side to side.
◦The scale provides an estimate on the aperture diameter.