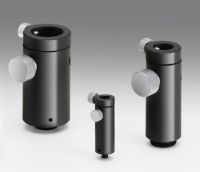 Used for height and rotational coarse adjustment of a post.
You must be logged in to ask questions
◦To secure a holder, insert the post into the post holder. Clamp the post with the clamp screw on the main body and the clamp on the post fixing clamp.
◦The post can be be coarsely rotated by loosening the clamp on the main body and keeping the post fixing clamp tightened.
◦There are three tapped holes for the clamp screw on the main body. This allows the user to move the clamp if it is interfering with other objects. (Note that the RS-30 model comes with three clamp screws as standard.)
◦The air-vent hole enables easy one handed loading/unloading of a post.