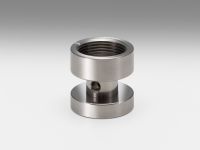 Vacuum Stand Base/Stand Clamp
This is a low outgassing stand base/clamp for fixing the post holders in the high vacuum chamber.
You must be logged in to ask questions
◦ By using in combination with vacuum stand clamps (VRC), the vacuum post holders can be positioned at an arbitrary position.
WEB Reference Catalog Code/W6105
◦ To minimize the outgassing, venting hole and grooving are provided onto screw holes and inset sections.
◦ Its small footprint enables closer configuration of each component.