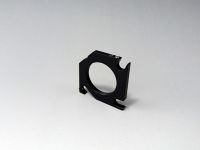 Optical components can be assembled with 30mm Cage system directly by using Cage M26.3*0.635 Plate.
Side-in type plate allows to assemble/deassemble with/from the cage system while the system constructed.
Suitable thickness plate can be selected from various lineup of the plate.
Optical components can be arranged in the cage system with narrow gaps by using the plate.
Attention ▶If the rod is tightened too tightly or if the tightening force is greatly different depending on the location, the rod may not fit in other holders.
▶Initially fix the rod lightly, after building the optical system, please tighten so that the force that fixes the rod is even in each holder.
▶When configuring a large optical system or a long optical system, it may become distorted or become unstable due to vibration.
You must be logged in to ask questions