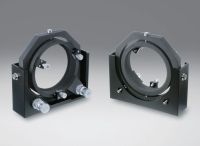 Extra-Large Precision Gimbal Mirror Holders
Gimbal mirror holders designed for mirrors φ100mm to φ300mm. These mirror holders can minimize optical path length difference, a problem in large mirrors, caused by mirror tilt adjustment.
You must be logged in to ask questions
◦It is structured to fix the mirror with the three resin tip screws from the back, and it is designed to fix the mirror of various thickness.
◦Differential micrometer heads with large knobs are used for fine angular adjustment.