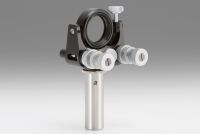 Gimbal Beamsplitter Holders
The frame of these mounts are narrow to accommodate a greater clear aperture at 45 degrees incident. The transmitted beam diameter is just about he same as the reflected beam diameter. Appropriate for beam branching optical systems or Michelson interferometers.
You must be logged in to ask questions
◦BHAN-S functions the same as MHAN.