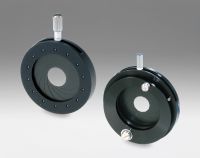 Iris diaphragm holders that can change the aperture size without changing the center of the aperture. Primarily used in the limited spaces of optical instruments to set an aperture size.

Customize product
Filters
Enabled filters :
Remove all filters
You must be logged in to ask questions
◦Unmounted iris diaphragms are ideal for OEM applications or for use when space is a premium.
◦The IDC series's thinness allows optics to be placed closed to each other.
◦The adjustment lever also functions as a lock to fix the aperture diameter.