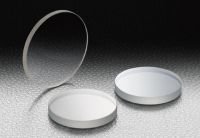 CaF² Windows for Ultraviolet and Infrared Laser
The CaF2 (Calcium Fluoride) crystal windows offer superior transmission in broad wavelength range from vacuum ultraviolet (130nm) to Infra-red (8μm).
You must be logged in to ask questions
◦These CaF2 windows contain low impurities and assure a high transmission in the UV regions.
◦High durability in a high humidity environment when compared to other glass materials.
◦CaF2 is an isotropic type of optics, there is no birefringence.