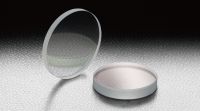 Optical Windows with Anti-Reflection Coating
These optical windows have high-quality and may be used when light is passed through the opposite side of the partition or in the vacuum chamber. Since the windows have anti-reflection coatings the transmittance is increased so they can be used as a window for laser irradiation windows and the observation of the sample.
You must be logged in to ask questions
◦By anti-reflection coating with a dielectric multi-layer, it is reduced to less than 1% to 4% reflection loss of the glass surface.
◦Since we are using the high quality material, the image will not be distorted by the transmission of the glass, and the laser beam is not diffused.
◦When you insert an window perpendicular to the optical path of the laser, the angle of the transmitted beam will not be changed.