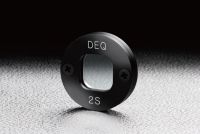 Quartz depolarizers convert linearly polarized input beams into unpolarized beams and are used in front and behind of measurement equipment that must avoid polarization.
You must be logged in to ask questions
◦1N type is made of single optical quartz plate. It has a wider transmission range, but has a larger beam deviation due to the 2 degree wedge shape.
◦2S type consists of cemented plates of optical quartz and synthetic fused silica. It does not have beam deviation, but the transmission range is not as wide as the single type.
◦OP type consists of optical contact. It has a wider transmission range without beam deviation.
◦It is similar to waveplate and mounted in a frame of ø30mm diameter.