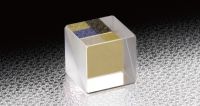 Polarizing beamsplitters consist of two right angle prisms. One of them is coated with dielectric multi-layer polarizing coating on the hypotenuse face. Polarizing beamsplitters split a monochromatic beam entering at zero degree into p-polarization as transmitted and s-polarization as reflected.
You must be logged in to ask questions
◦Four surfaces of the cube are coated with narrowband multi-layer anti-reflection coatings.
◦The losses of input beam of these products are minimized because of no absorption of the dielectric coatings.
◦For cube beamsplitters, unlike plate beamsplitters, beam deviations of transmitted beams and ghosts rarely occur.