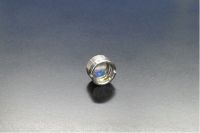 Lenses for extract the collimate beam from the optical fiber or let the collimate beam into the optical fiber.
You must be logged in to ask questions
◦ Precision modeled aspheric lenses enabled to obtain the collimate beam close to the planar.
◦ You can directly mount to the optical fiber collimator housing because lenses have frame.
◦ According to each laser wavelength, you can choose from 3 kinds of anti-reflection coatings.