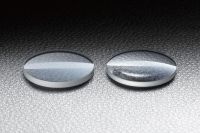 Sapphire Plano Convex Lens
Sapphire crystal is a transparent crystal without absorption from the visible to infrared wavelength of 5μm. In addition, sapphire has extremely hard and resists scratching.
You must be logged in to ask questions
◦Sapphire crystal is a very stable material used in optical equipment in the field.
◦Since there is no absorption (1.4μm, 2.2μm, 2.7μm) by water (OH radical), it can be used on a lens for the analyzer for near-infrared.