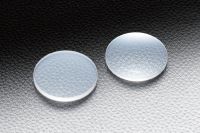 Calcium Fluoride Plano Convex Lenses
Calcium fluoride (CaF2) is a crystal which has excellent transmission characteristics in a wide wavelength range from ultraviolet (200nm) to near-infrared (8μm).
You must be logged in to ask questions
◦Impurities and crystal defects were reduced, and the transmission characteristics in the ultraviolet region were increased. CaF2 is used for the range from the ultraviolet to the infrared.
◦When compared with other crystals, CaF2 has high durability to moisture, and it can be treated the same as the general optical elements.
◦Since CaF2 is isotropic crystal, birefringence (polarization characteristics) does not occur.