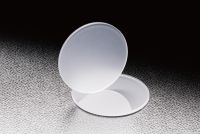 Ground glass diffuser has a large area diffusion of an incident light. It is widely used in prevention of imaging of lamp filament, to diffuse a large area of projected light or used as a screen.
You must be logged in to ask questions
◦The ground glass diffuser with sandblasted surface at a grit range from #240 to #1500. The higher the grit number the finer the sandblast size.
◦BK7 for visible and NIR and for Ultraviolet we recommend Synthetic fused silica substrates.