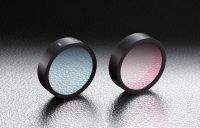 Raman Long Pass Edge Filters
It is available to cut the excitation laser beam and extracted with high transmittance Raman shifted light on the longer wavelength side with a sharp rise. It can be used to detect weak light of the Raman scattering.
You must be logged in to ask questions
◦At the wavelength of the laser specified it has excellent light-blocking properties of OD6 and in the transmission range it is a filter with a transmittance of more than 90%.
◦Because it is a dielectric multilayer coating, there is almost no absorption of light by the coating.