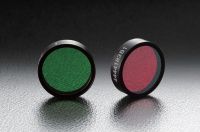 Filters are designed to divide sharply the wavelength color by transmitting the short wavelength and cutting off the long wavelength. Fit for Bio-imaging and flow cytometry applications.
You must be logged in to ask questions
◦In the range of blocking wavelength, it has a excellent light-blocking properties as OD5, and in the transmission range it is a filter with a transmittance of more than 90%.
◦Because it is a dielectric multilayer coating, there is almost no absorption of light by the coating.