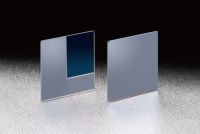 The principle of the cold mirror is reflecting the visible range light and leave the UV range light to transmit. It can separate the visible and the UV (heat) of the sunlight.
You must be logged in to ask questions
◦Low absorption with a dielectric multi-layer coating using high transmittance glass material and it can be resistant to rapid change in high temperature.
◦Using this product it is possible to select IR light only.
◦Can be used as a NIR filter by changing the angle of Incident.