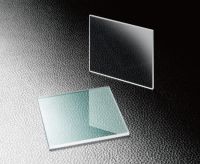 With a variable beamsplitter, the incident angle of a laser can be changed. The (R:T) ratios can also be modified. This is commonly used to adjust the light intensity of the laser without a variable adjustment of the light intensity or the laser to be stabilized.
You must be logged in to ask questions
◦The variable beamsplitter has a dielectric multilayer coating which has excellent durability and light resistance.
◦The beam shift caused by the tilt of the beamsplitter can be removed by using a correcting plate. (See how to use)
◦It can be used for arbitrary polarization. However, the transmittance characteristic depends on the polarization.