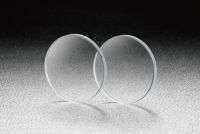 A beam sampler behaves like a plate beamsplitter, it has the ability to reflect approximately 5.2% of the total beam.
You must be logged in to ask questions
◦Uncoated surface of optical parallels or wedged substrates are used as reflection surfaces. The rear surfaces are coated with multi-layer anti-reflection.
◦These products have transmitted beam deviation and ghosting of the rear surface reflections due to the characteristics of plate beamsplitters.
◦Wedged beam samplers with AR coating on the rear surface should be selected to prevent ghosting.