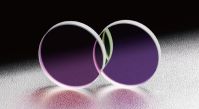 Dielectric Plate Beamsplitters
Plate-type beamsplitters are dielectric multi-layer coatings on a parallel plate or a wedge substrate. They are designed to divide beams at a reflected light (R) : transmission light (T) ratio of 1:2 or 1:3. The rear surface is coated with anti-reflection (AR).
You must be logged in to ask questions
◦The dielectric multi-layer films have virtually zero light absorption and very low light intensity loss. However, transmittance and reflectance may vary according to wavelength, polarization and incident angles. Some deviation of the transmission optical path or ghosting may occur. To prevent ghosting, use wedge beamsplitters.