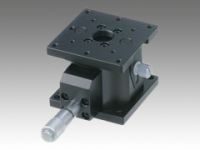 Z axis Aluminum Ball Slide Stages
Stages with an aluminum main unit and a HQG shaft and ball slide. Ideal for use with relatively lightweight devices.
Attention ▶The structure does not allow upside down installation since the spring inside the stage might not be able to withstand the load and may stretch.
▶Since the structure uses the principle of leverage, the feed rate fluctuates against the scale depending on the travel (about ±0.02mm for micrometer head 0.5mm/rotation).
Guide ▶The part number suffix FP indicates products with fine-pitch screws instead of standard micrometers.
▶Fine Pitch screws have a screw pitch of 0.25mm and require a hex wrench or the optional hex wrench with knob (KCL) for adjustment.(WEB Reference Catalog Code/W8008-3)
You must be logged in to ask questions