Differential Micrometer Heads (Maintenance parts) MHF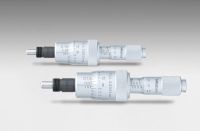 Mirror mount with rod (MHF-20/25/4/30) has a point of reflection at proximity of rod axis. Installation of mirror mount is straightforward because a point of reflection is unchanged in regard to orientation.
Adjustment knobs and clamp are design extended vertically or front/rear side of the mount to reduce wideness.

Customize product
You must be logged in to ask questions