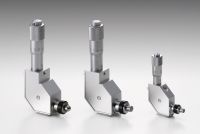 Unique right angle drives are direct replacements for micrometer heads used on OptoSigma's manual stages. Unidirectional control units are suitable for assembly into systems, offering excellent operability in confined spaces and improving work efficiency.

Customize product
Filters
Enabled filters :
Remove all filters
You must be logged in to ask questions
Compatible with the mounting brackets of micrometer heads used in products listed in the catalog.
Angled micrometer heads can be rotated and secured at any position. Adjust to the most convenient position depending on the situation.