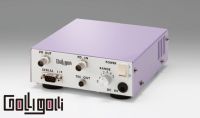 A transimpedance amplifier that converts weak photodiode output current to voltage.
Highly sensitive and supports external operation with PC.
You must be logged in to ask questions
PDA-1
◦Six conversion ranges 105 − 1010 (V/A) and extremely large conversion ratio, enabling detection of weak light.
◦Operated from the front panel as well as by PC (RS232C interface). Excellent compatibility with measurement control software such as SGADVAVCEE.
◦Temperature control photodiode (PDA-PD-1 as option), achieving stable detection of weak light.
PDA-PD-1
◦PDA-PD-1 has built-in Peltier cooler, amplifier, temperature control circuit, and photo detector.
◦Peltier cooling module maintains low temperature.
◦Absorptive ND filters can be used and mounted to adjust the volume of exposed light.
◦0.5 meter length cable used.
◦Ultra low noise.