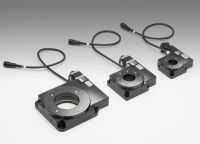 High Stability Motorized Rotation Stages
Limited range high duty cycle rotation stage.
You must be logged in to ask questions
◦Good for the automatic alignment devices which need to repeatedly adjust the angle of rotation by a small amount.
◦The ball screw system drive mechanism reduces abrasion and backlash for high durability.
◦Since it converts linear motion of the ball screw into rotational motion using a steel belt, the angular spped and resolutionis the same over the full range of travel.